This is one of my all-time favorite recipe for zucchini fritters. Another tasty way to get kids to eat more veggies. These crunchy fritters can be served as a festive appetizer.

Ingredients
3 medium sized zucchini, grated

1/2 cup all-purpose flour

3 medium eggs, lightly beaten

1/4 teaspoon freshly ground  peper

1 teaspoon salt

200 gr feta cheese, crumbled

1 cup of dill, finely chopped

1/2 cup of parsley, finely chopped

1 cup of fresh mint, chopped

3-4 spring onions, thinly sliced

vegetable oil, for friying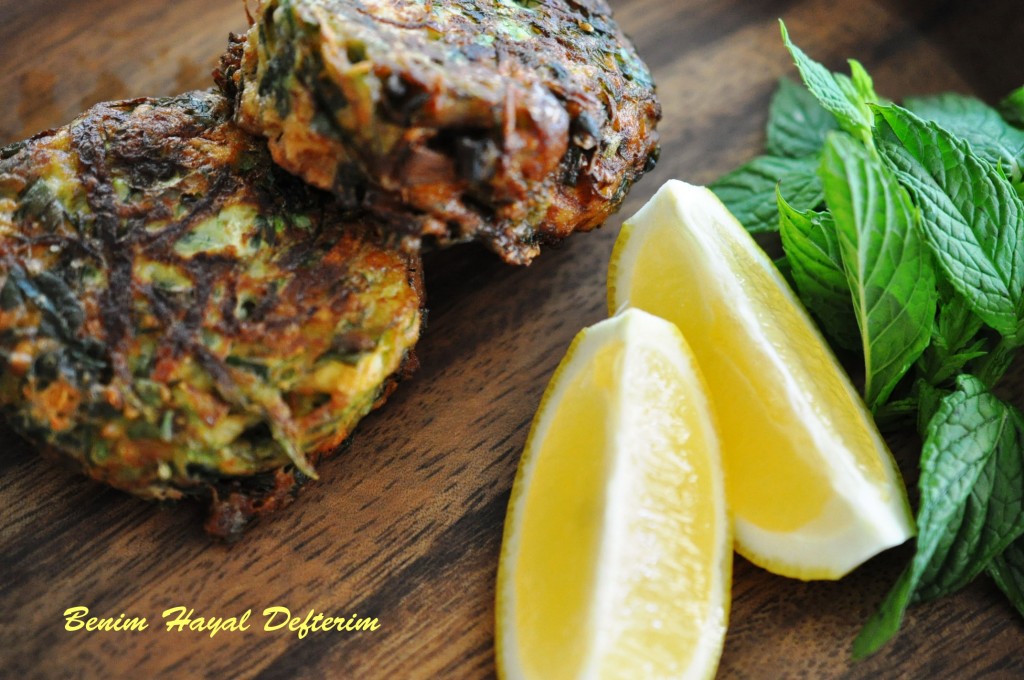 1.Place the  grated zucchini in a strainer over a large bowl. Toss it with salt and set aside for 1 hour. Squeeze in a clean kitchen towel to extract excess moisture.
2.Transfer to a bowl. First stir in herbs, onions and feta cheese . Add eggs and flour to the vegetables and mixed until evenly combined.
3. Heat vegetable oil in a large heavy-bottomed frying pan over medium- high heat. Meanwhile, line a large plate with paper towel  to drain excess oil.
4. Carefully drop a heaped tablespoon of zucchini mixture in to pan; repeat, spacing fritters a few inches apart. Pat them down  so they become like a flat.
5. Fry until golden brown on both sides. With a slotted spoon tranfer patties to the plate.
6.Serve  cold or at room temperature with sour cream.
I'm watching my weight these days so I cook my share in a healthier way:
1.Heat heavy-bottomed nonstick small sauté pan over medium low heat
2. Add a tablespoon of olive oil in to the pan and allow to heat through
3.Add zucchini mixture and move the pan around to spread it out evenly
4.Cook the zucchini for about 4-5 minutes, until the bottom is golden brown
5.Using a spatula, ease around the edges
6. Turn and cook the other side
"İngilizce tarif yazmak nereden çıktı?" diye merak edebilirsiniz. Bize ait tarifler yayınlarken, hem İngilizce hem Türkçe olarak yazacağım bundan böyle.   ♥ ♥ ♥ ♥……..∞